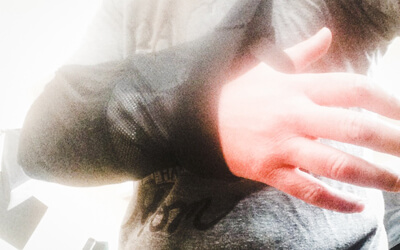 by Steve Prussack, Founder of Juice Guru
Last weekend, I tore ligaments in my right forearm….and am now wearing a sling.
We often take for granted the basic ability of using our body to perform activities of daily living…
Every time I move my arm in rotation, I feel a jolt of pain traveling along the nerve.
To be honest, it's rather difficult to type this blog post.
My major setback has been in my Daily Juicing routine…
I am not able to juice with just one arm…
Although I might physically be able to do it, I just don't have the time required to wash/ prep/ cut the produce with one arm…
I would be in the kitchen for hours.
As a result, I've been picking up the bottled stuff at Whole Foods.
The so-called raw juices you'll find in a variety of brands these days are processed using a high pressure system.
I can definitely tell the difference.
While the juices taste pretty good, I just don't experience the sustained energy we get after pressing our own potent green juice.
And it makes me angry…
Don't get me wrong, I think it's great that juicing is becoming popular with new brands popping up all the time.
But it's just plain deceptive to advertise processed juice as "raw" or "fresh", when it lasts 40 days in your fridge!
I'm not sure how much longer I have until I can start using both of my arms again…
and hopefully I can carve out a few hours to juice my own before that time comes.
While the high pressure processed juice is better than nothing…
I just can't wait to get back to my own daily juice routine.
Just wanted to take a moment to be grateful we are alive…
with functioning bodies we often take for granted to perform the most habitual tasks.
I want to stop taking things for granted…
and start appreciating all the gifts this life has to offer.
Before I sign off, I want to let you know that I'll be taking down our Juice Guru special juicer offer soon.
If you want to upgrade to our favorite juicer of 2014/ 2015 at a price you will just not find anywhere, check it out now.
http://juicingsurvivor.com/juicer
They will be returning to regular price soon and shipping is free in the United States.
Here's to being your own guru,
Steve Prussack
PS—-what do you think of our new logo?  Let me know.  Just add your comments below.