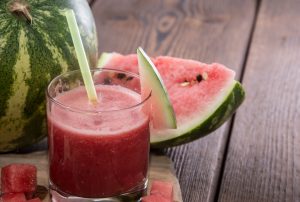 These incredible fruit juices are great to make before you go to bed on New Year's Eve to help ward off a hangover the next day. Full of antioxidants and phytonutrients, they work to flush out alcoholic toxins from your system; they have plenty of good fruit fructose to even out your sugar levels after a night of drinking; and they are full of hydrating, structured water.
And, hey, they are very easy to make…even if you've had a few too many.
Cantaloupe is one of the most nutritious fruits on the planet, offering protection for your immune system, among other benefits. And watermelon is full of antioxidants and phytonutrients. It's also a diuretic, and will flush your system.
Make sure to cut the tough outer rind off of your melons, but leave the soft inner rind intact – this part is full of antioxidants you wouldn't normally eat, and it helps give the juice a surprisingly creamy texture.
Ingredients

Yield: approx. 32 ounces
• 2 medium cantaloupes, outer rind removed, seeded and cut in slices OR
• 1 medium-large watermelon, outer rind removed, seeded and cut in slices
Feed through your juicer and drink immediately.