Excerpt from "The Complete Idiot's Guide to Juice Fasting"
This brilliantly colored pink juice blend is famous for its tasty pineapple flavor that perfectly complements earthy beets and bright spearmint.
Yield: 4 cups Prep time: 15 minutes Serving size: about 4 cups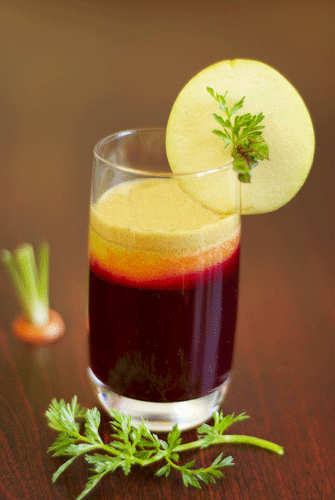 Ingredients:
1/2 medium-small red beet, sliced
2 large Granny Smith apples, cored and sliced
1/2 large pineapple, peeled, cored, and sliced
3 medium sprigs spearmint
Directions:
1. In a low-rpm juicer, alternate pressing red beet slices, Granny Smith apple slices, pineapple slices, and spearmint.
2. Stir and serve immediately.
Juicy Fact
This was the most popular drink served at the renowned Source Restaurant on Sunset Boulevard in the 1970s. The restaurant was one of the first all-organic venues in the world, and many Hollywood celebrities dined there, hence the name of the juice. At the time, though, this drink was named the Hollywood Sunset.